Sycamore
Welcome to Sycamore class 2019- 2020!
During term 1, we studied World War 2. The children really engaged with this topic which was brilliant. Here are our Blitz pictures...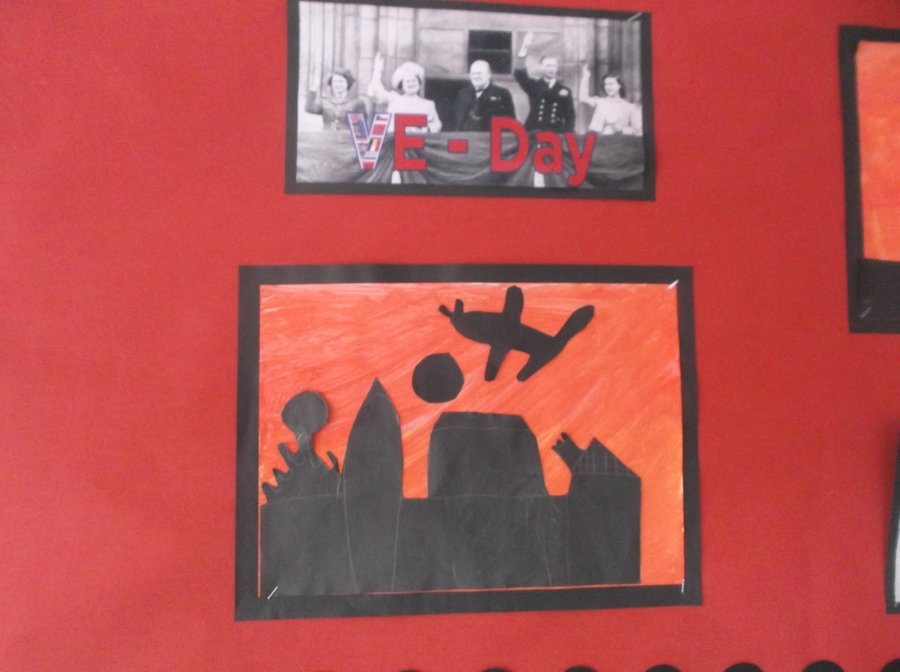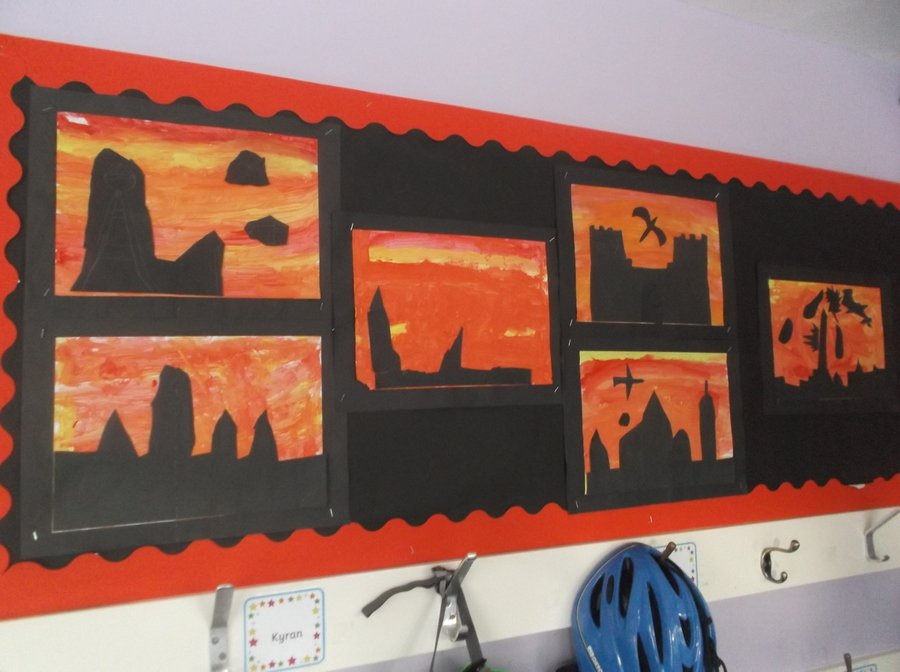 Welcome to Sycamore class 2018- 2019!
Autumn Term
We started the term with an art focus on fashion. The children thoroughly enjoyed looking at fashion through the ages. They then became fashion designers themselves, creating costumes out of bin bags.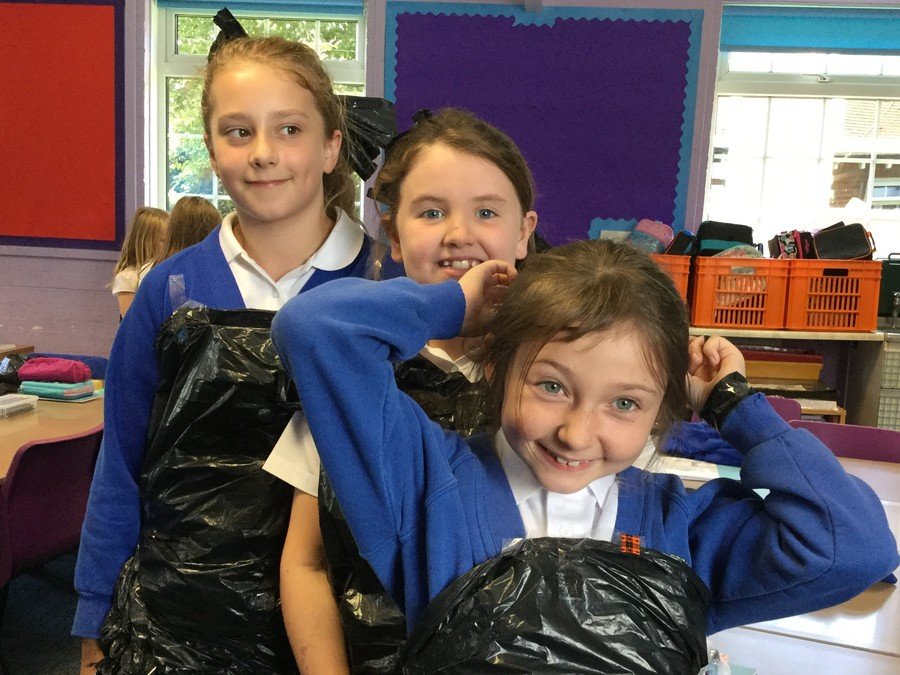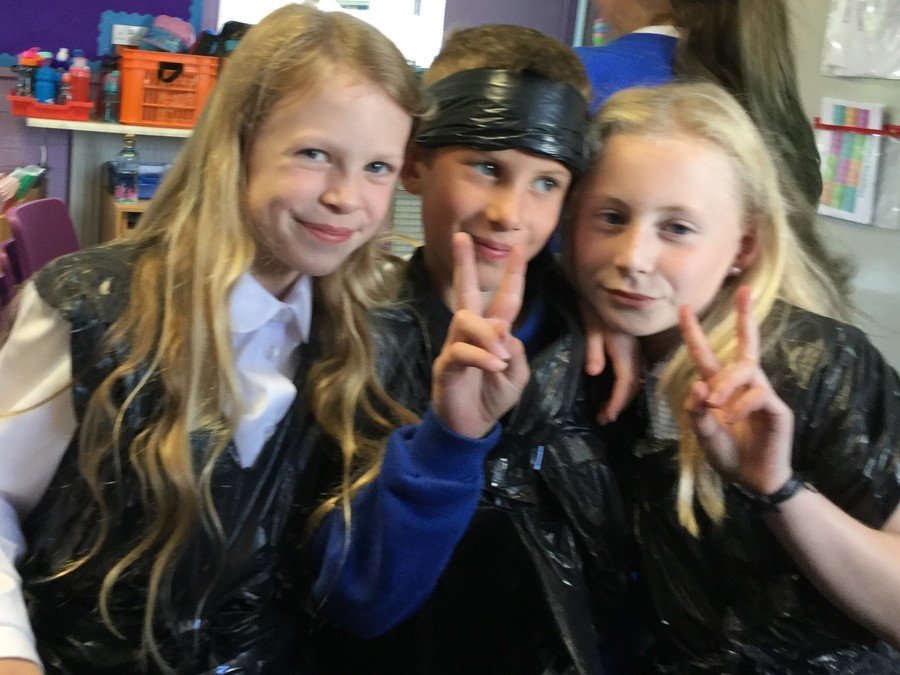 The children have also been enjoying learning about the Romans. They created Roman pots in clay and we look forward to creating some mosaics.
Sycamore class have also been learning to play brass instruments and are doing tremendously well!
On Thursday 11th October the children were able to taste 4 different types of Cottage Pie.
Homemade Cottage Pie
Shop bought Cottage Pie
Homemade Quorn Cottage Pie
Shop bought Quorn Cottage Pie
The children loved this experience and most did try all four types. The overall favourite was the Homemade Cottage Pie, well done Miss Smith! The least favourite was the shop bought Quorn Cottage Pie. The children will now move onto choosing what they would like to put into the Cottage Pie that they will make later on in term 2.
See below for previous years work in Sycamore class...
Welcome to Sycamore class 2016 - 2017!
We've had a great start to our school year.
In term 1, we explored the Vikings in topic. Our art work and creativity was fantastic. Check out some of our creations below...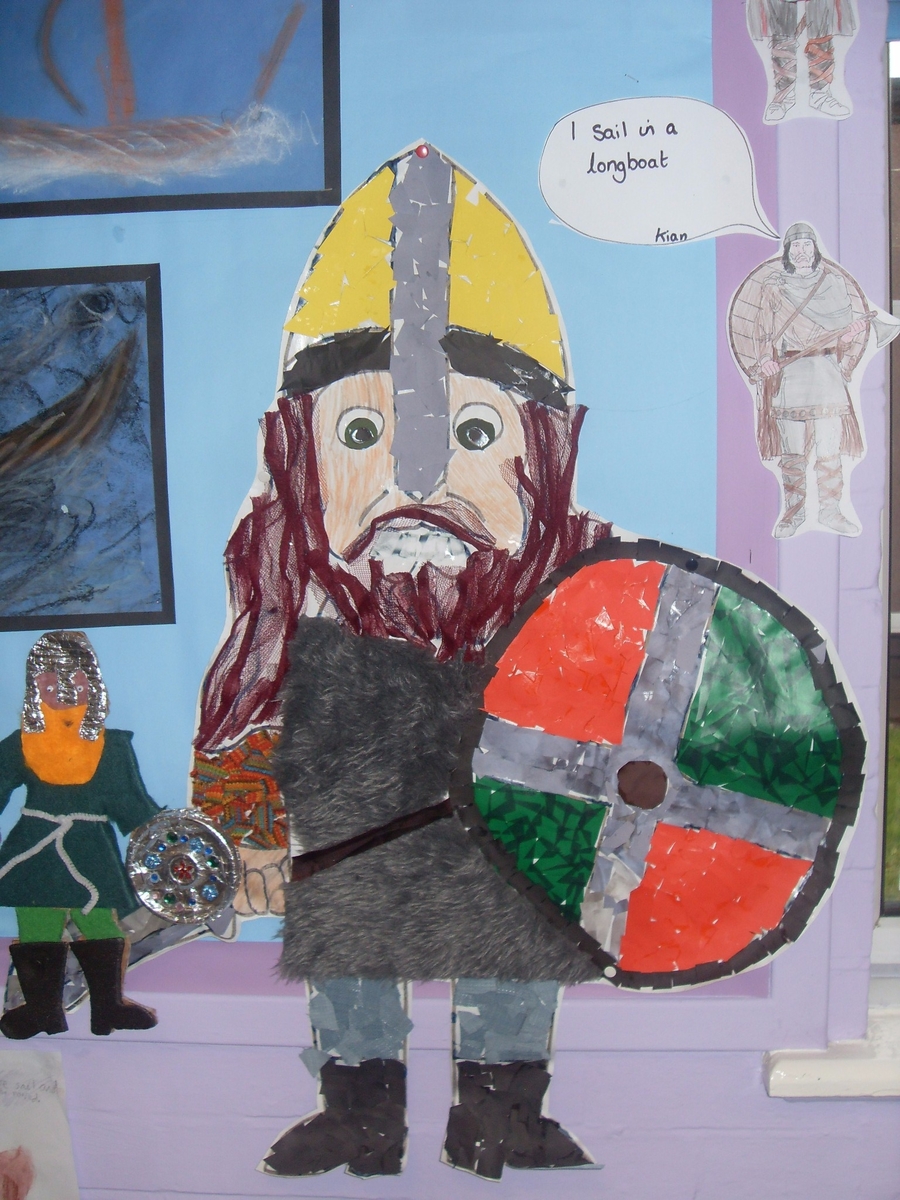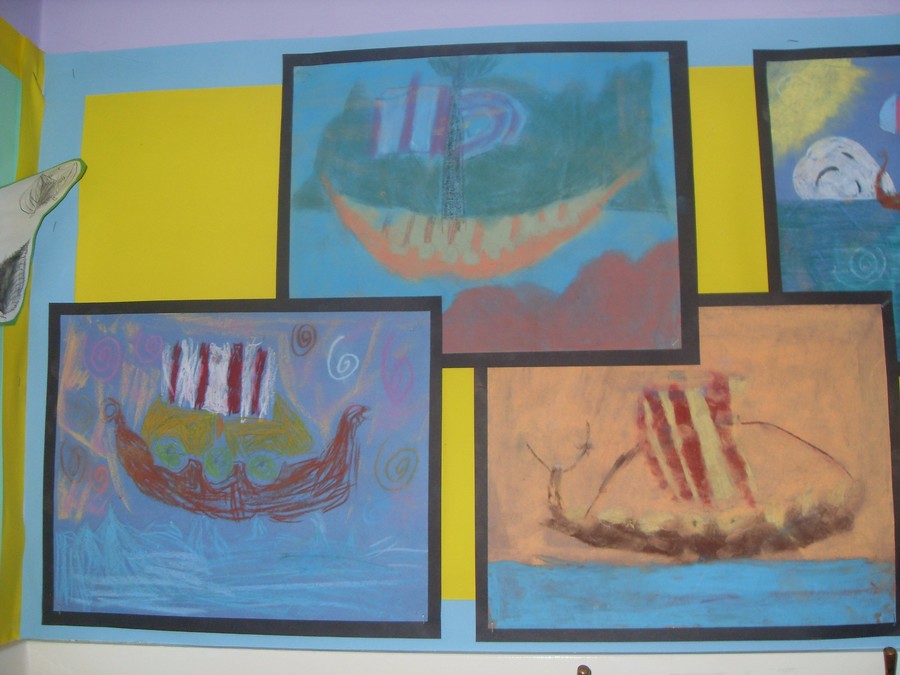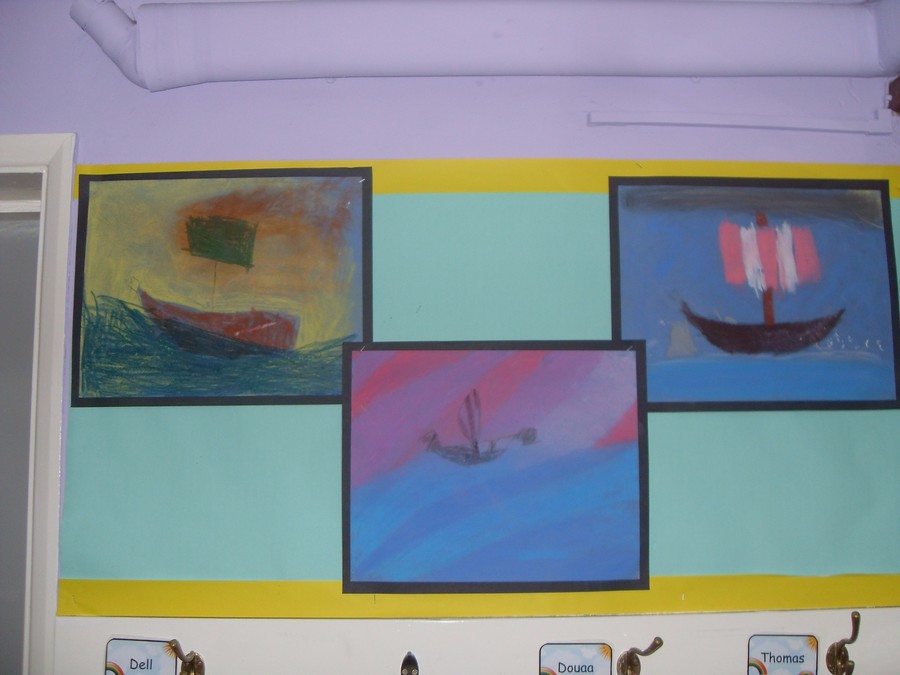 Our Design and Technology project was linked to our topic on the Vikings.
We had to research, design and make our own Viking Long ships...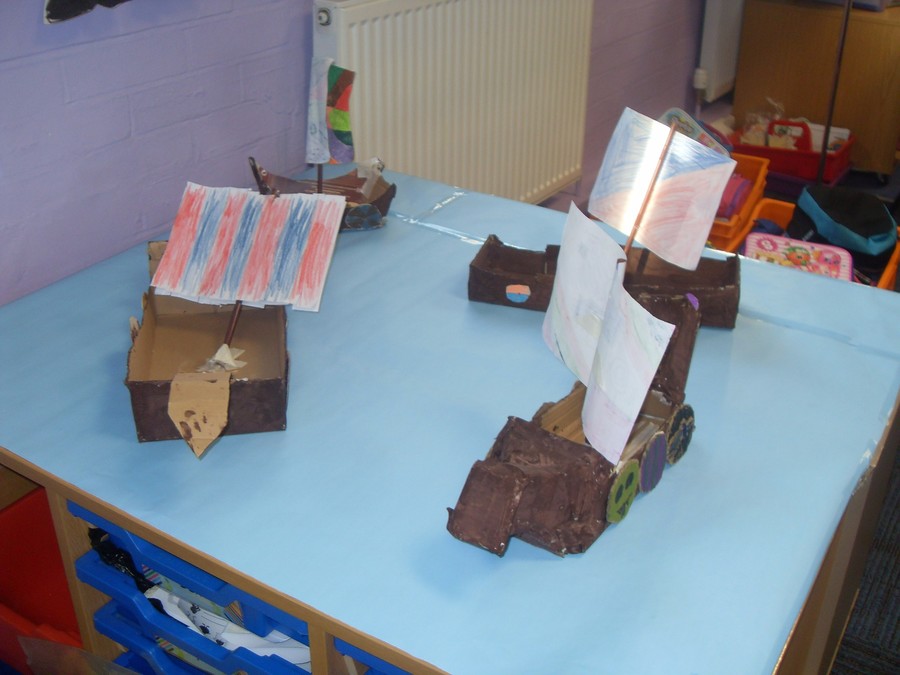 We are currently exploring Materials and their properties in Science. We have enjoyed completing many different experiments which have investigated a range of different properties. These have included thermal insulation, electrical conductivity and solubility.
This week we have explored how we use our knowledge of the properties of materials to separate a mixture....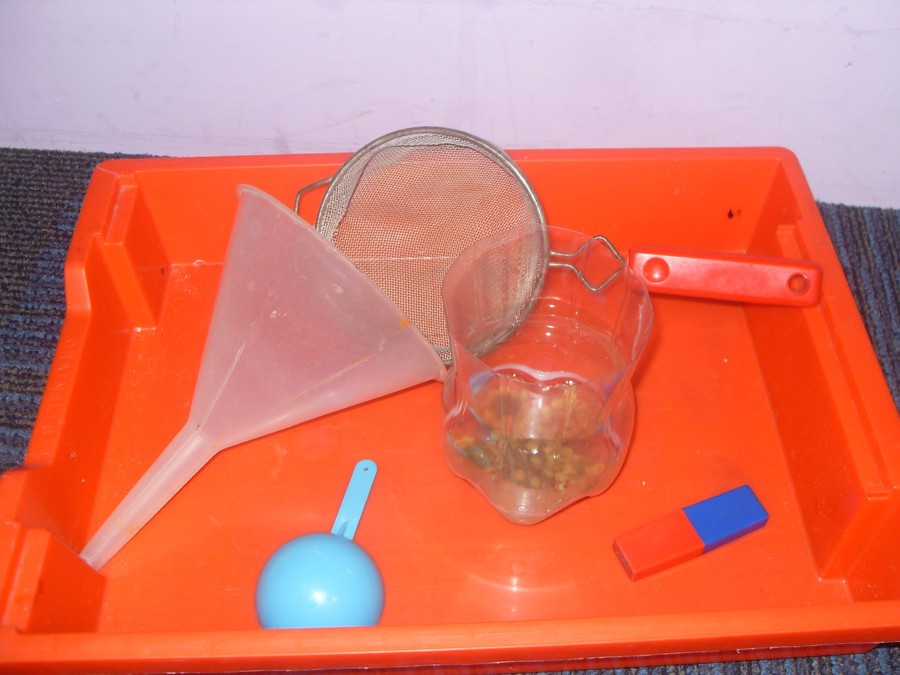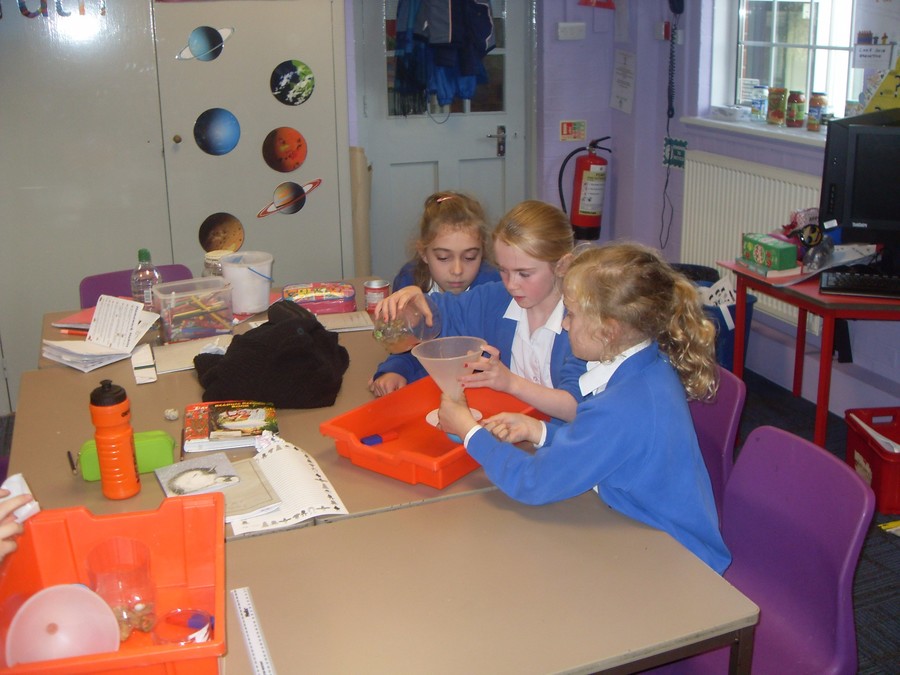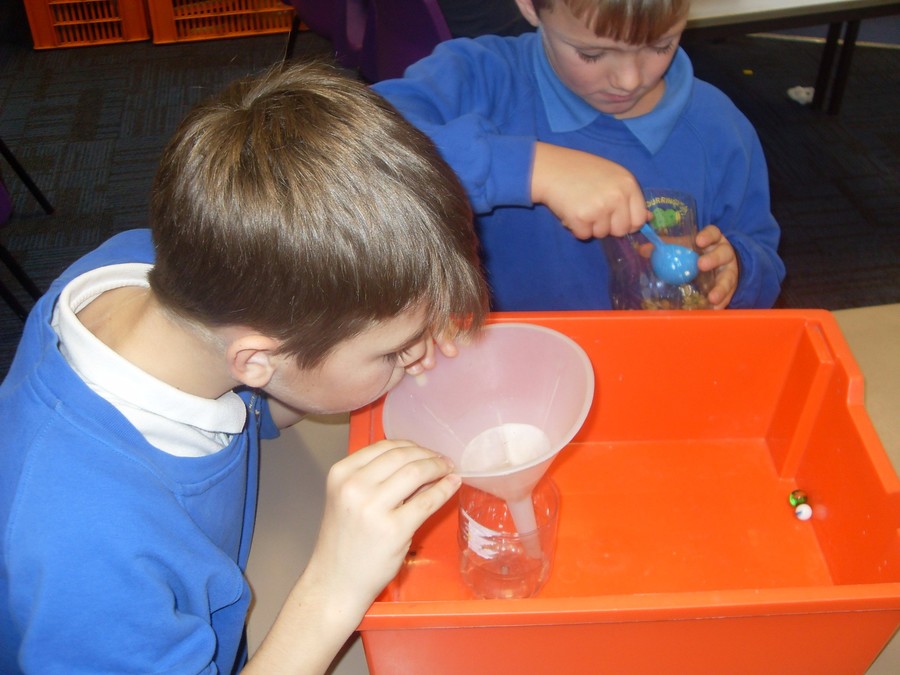 This term we have been reading 'The Firework Maker's Daughter by Philip Pullman.
We have used this as inspiration for our writing.
The content of the book and the time of year inspired us to write our own firework descriptions...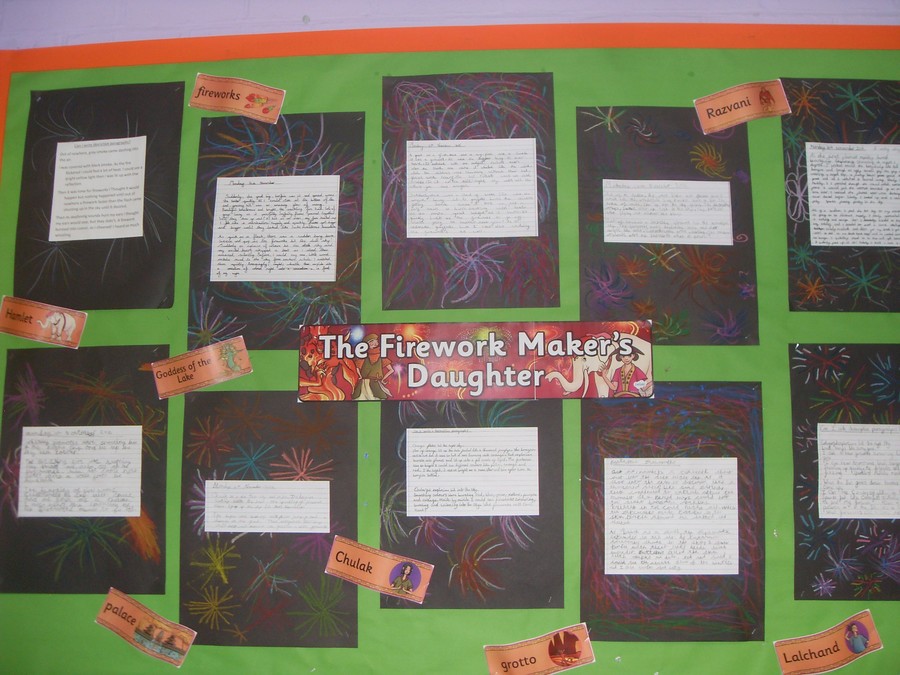 Out of nowhere, a firework shot out into the dark night sky. I could hear the giant bonfire crackling quietly in the cold night air. The fireworks made patterns in the sky. People around me clapped and cheered.
By Callum Weston
Flakes of orange hit the night sky. It looked like a thousand fireflies. The bonfire was hot, burning with an orange glow.
Colourful explosions hit the sky. Smashing colours were bursting. Minute by minute, I could see fireworks shimmering and whizzing into the midnight sky. What will happen next?
By Caitlin Lewin
In the Spring Term we enjoyed making and eating our pasta sauces.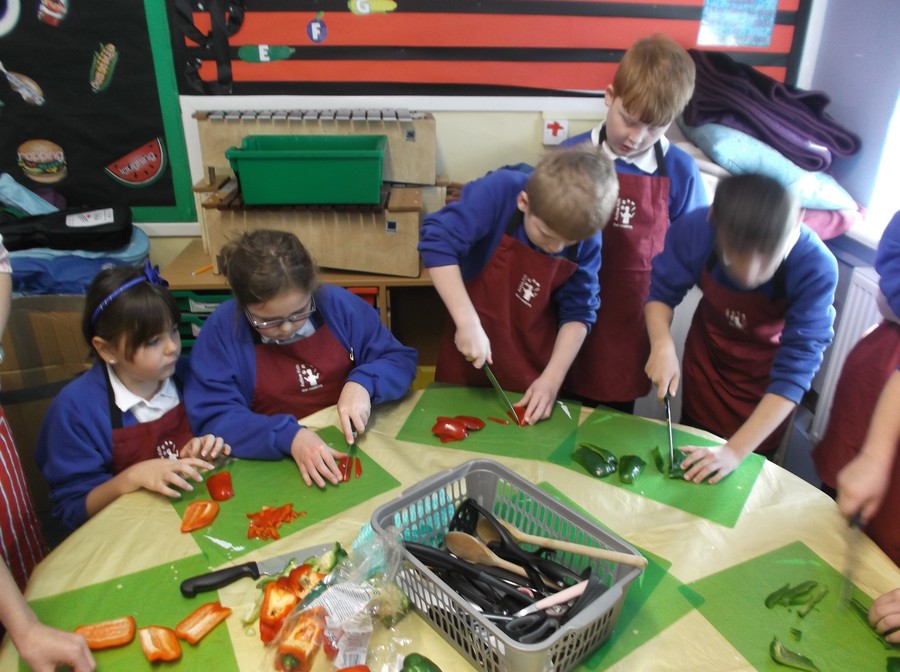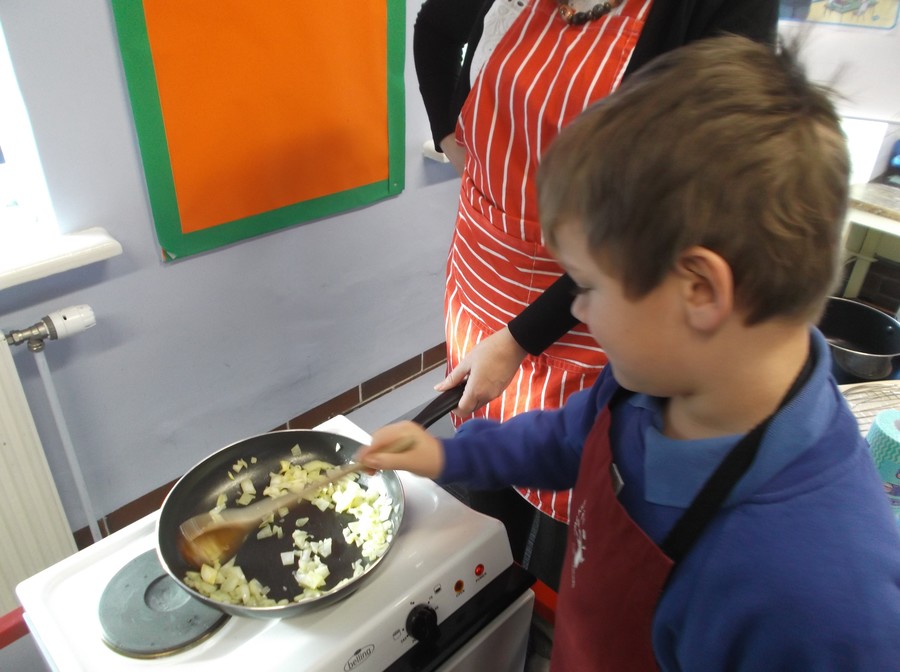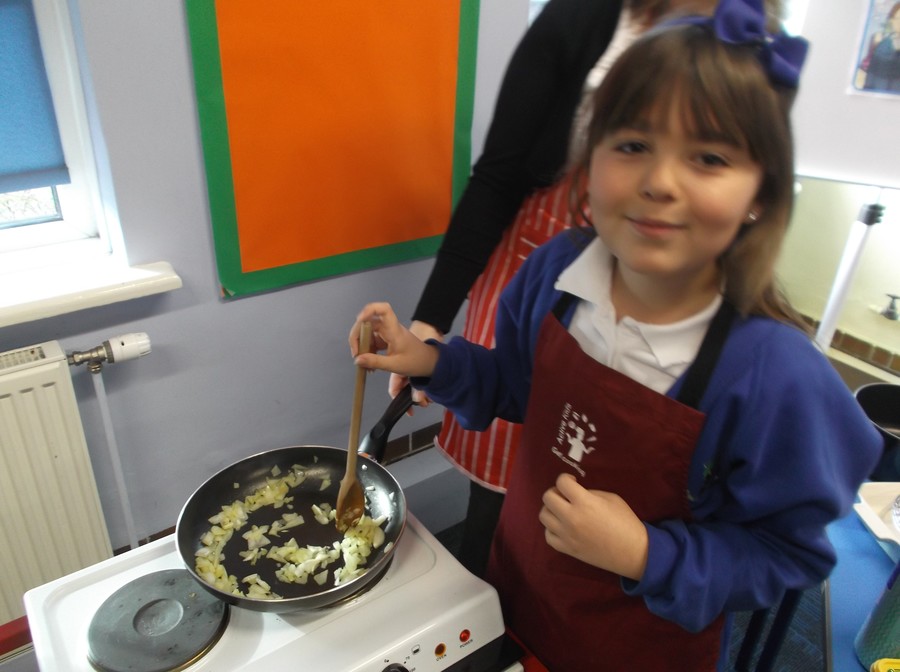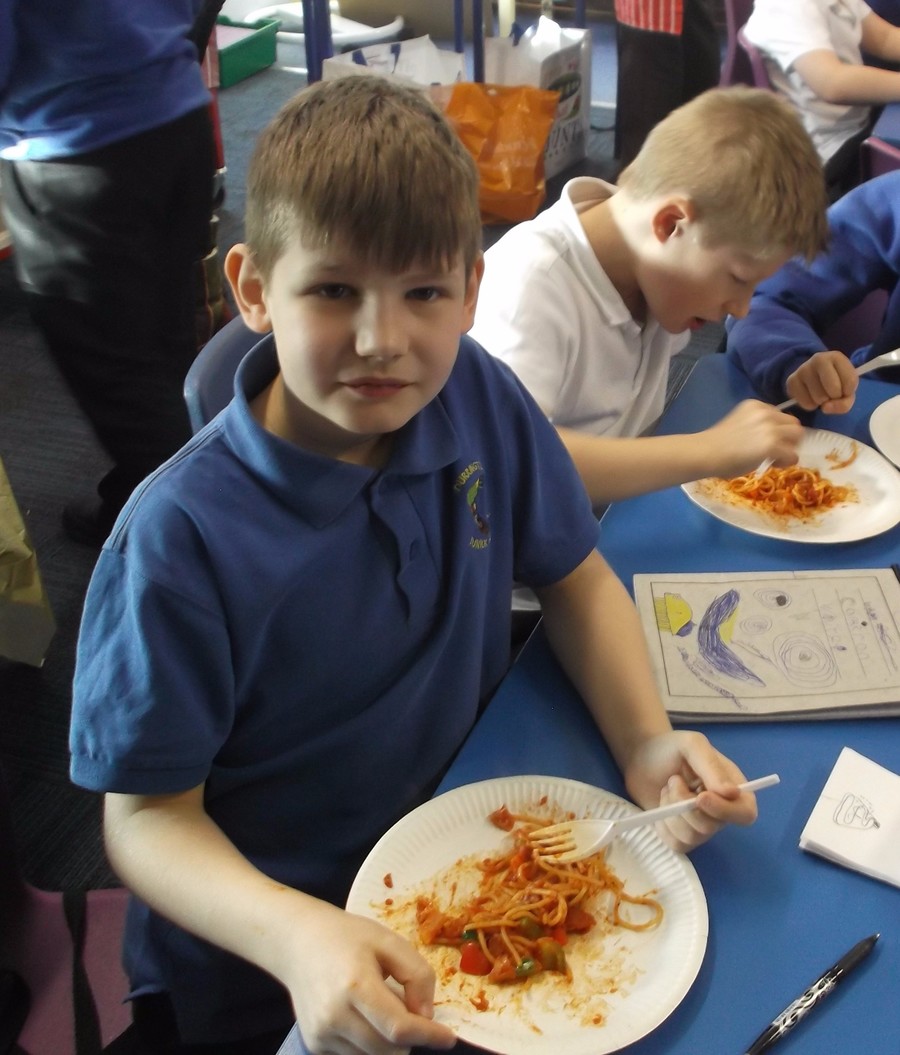 We have just completed a fantastic 5 week topic on World War 2. We explored many aspects including how the war started, Evacuee's, Rationing, the Blitz, Air raid shelters and prominent figures.
The children created their own Blitz pictures which look stunning on display.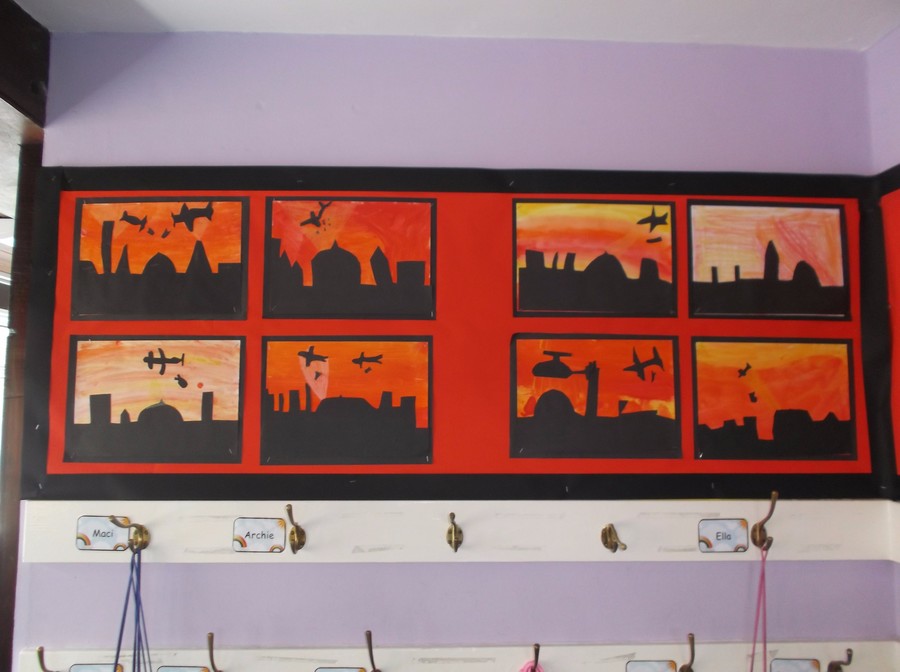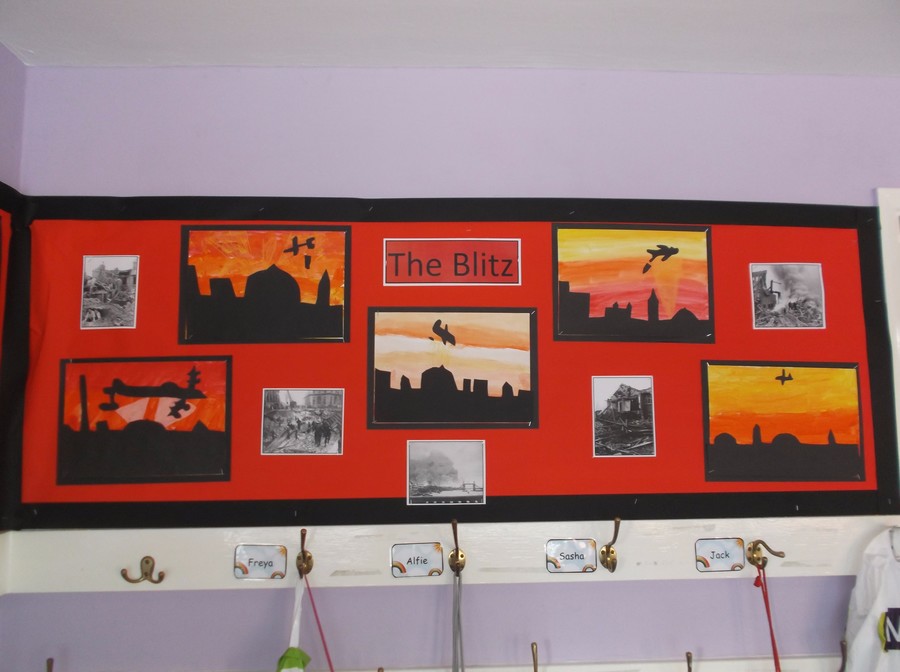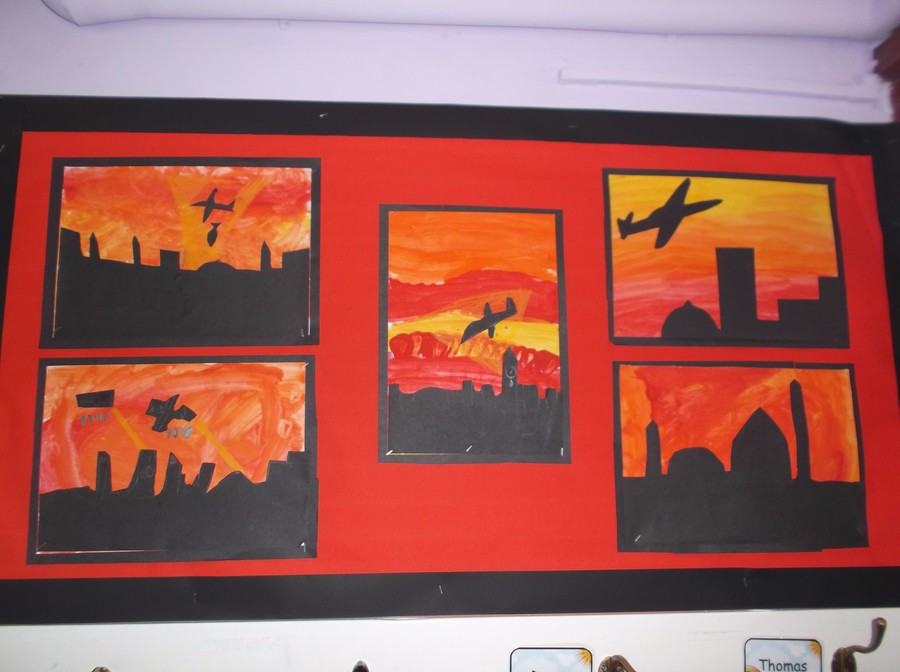 The children created their own YOYO projects on the theme of World War 2. They are fantastic and as a result we are having an exhibition of their projects in a few weeks time.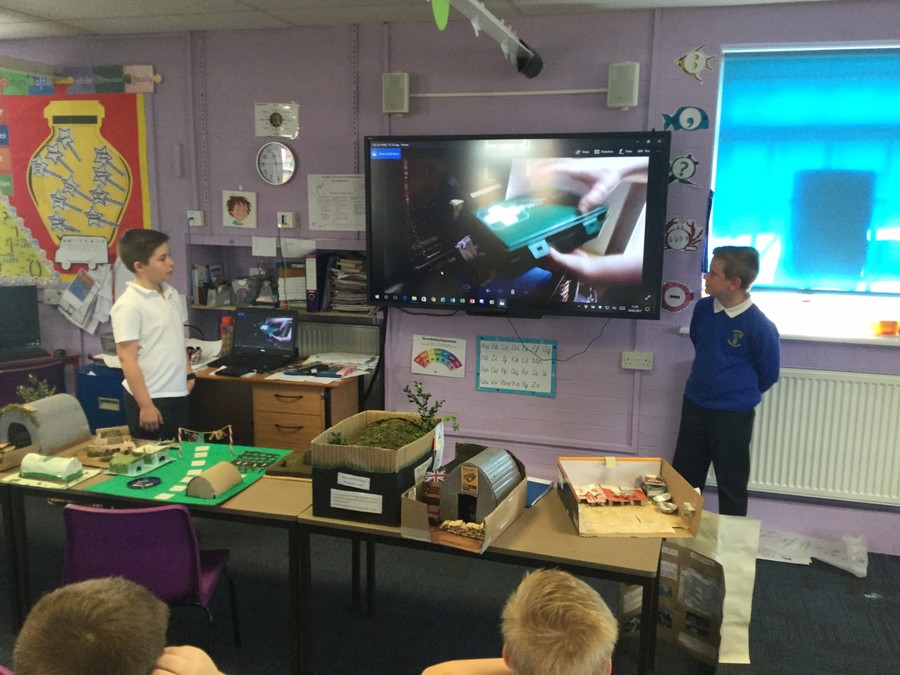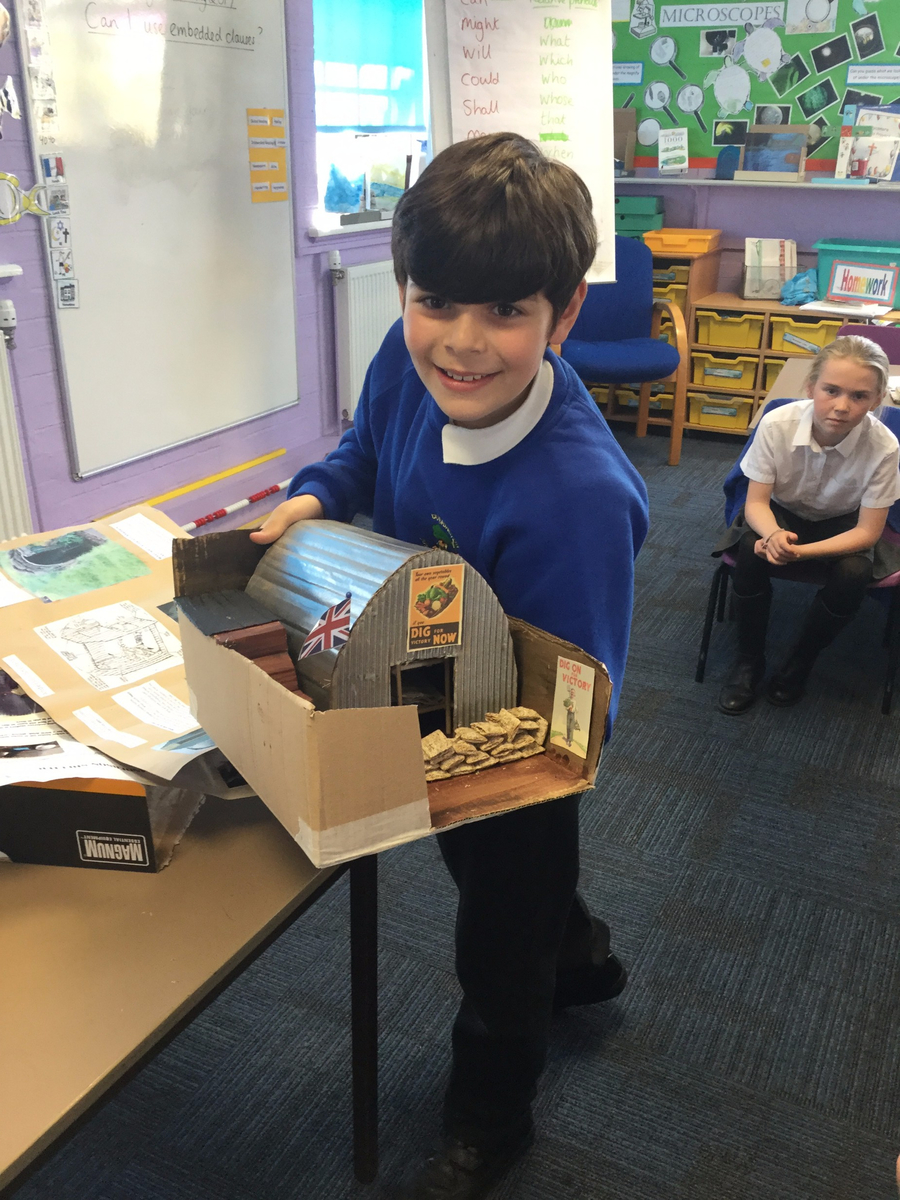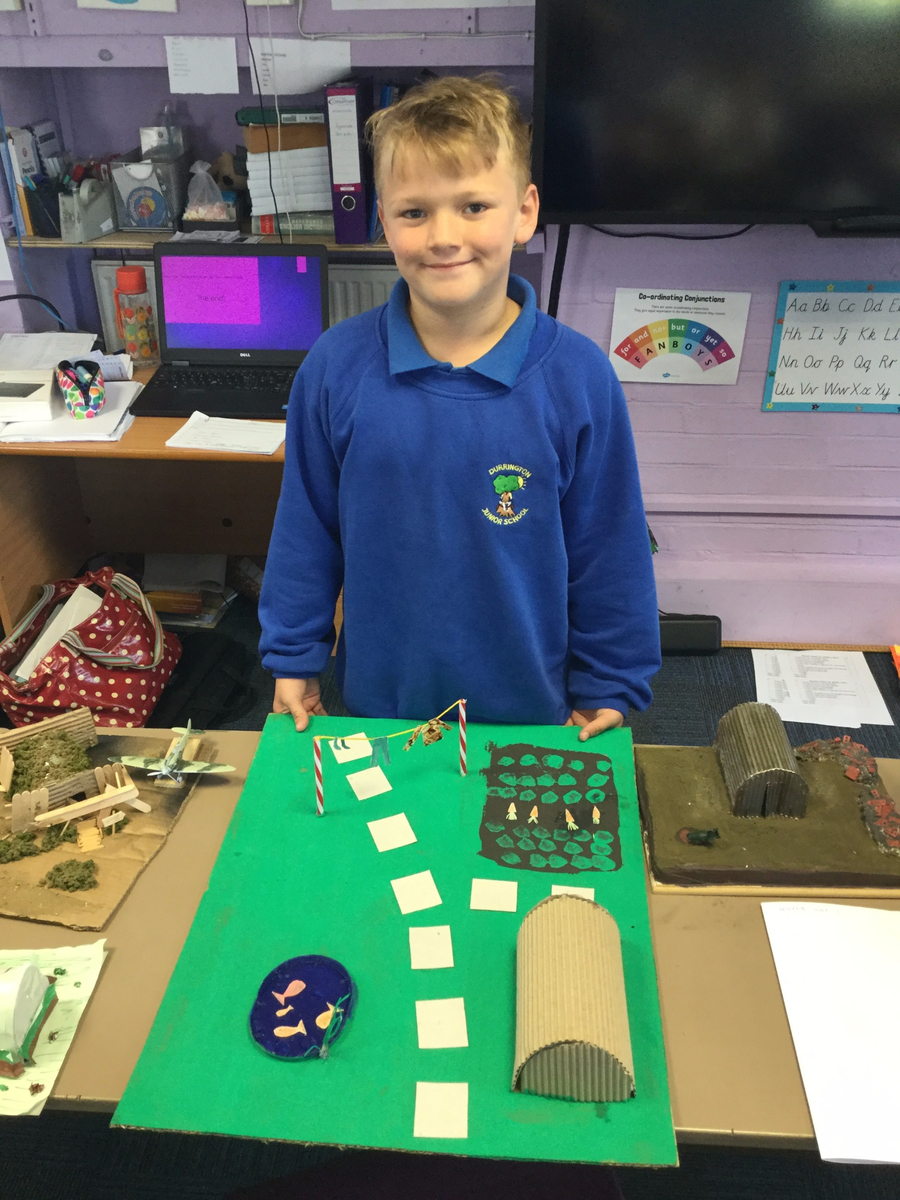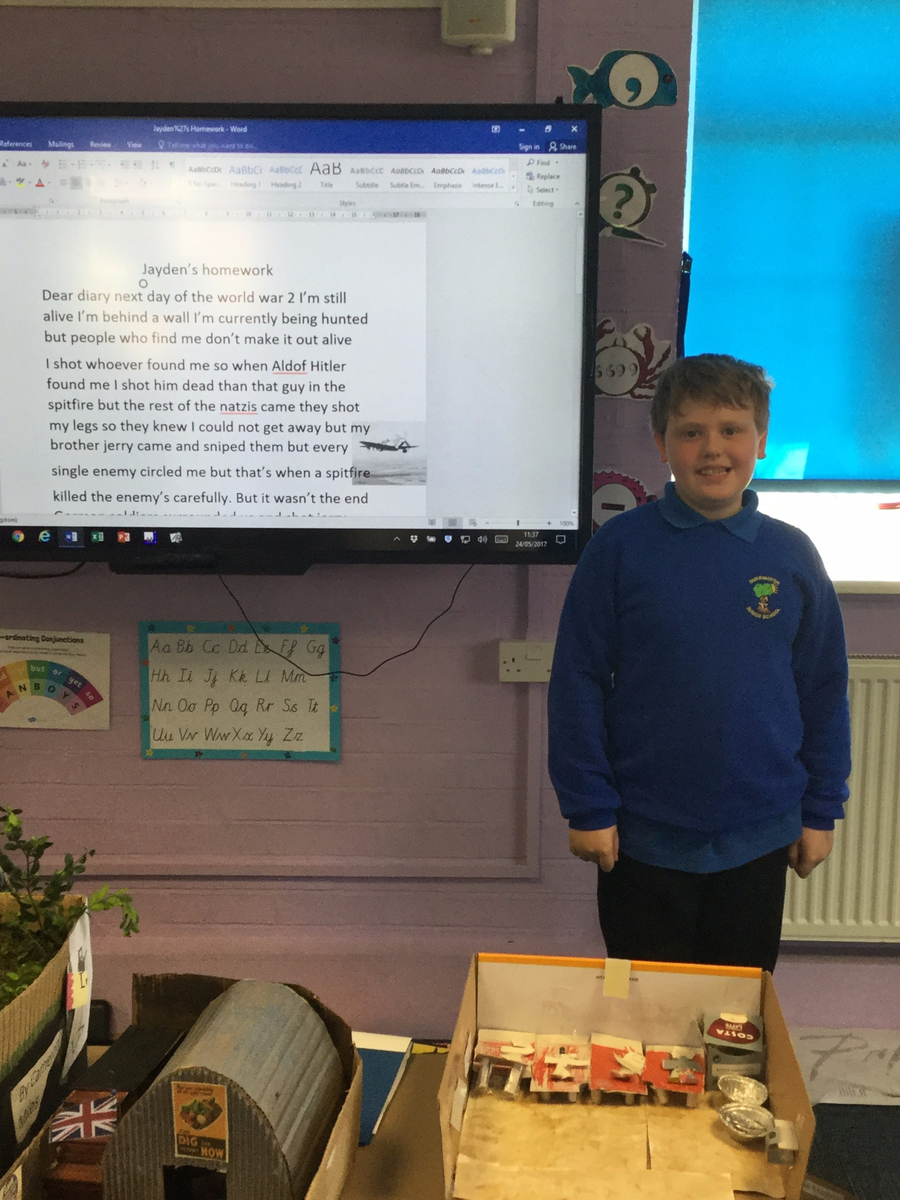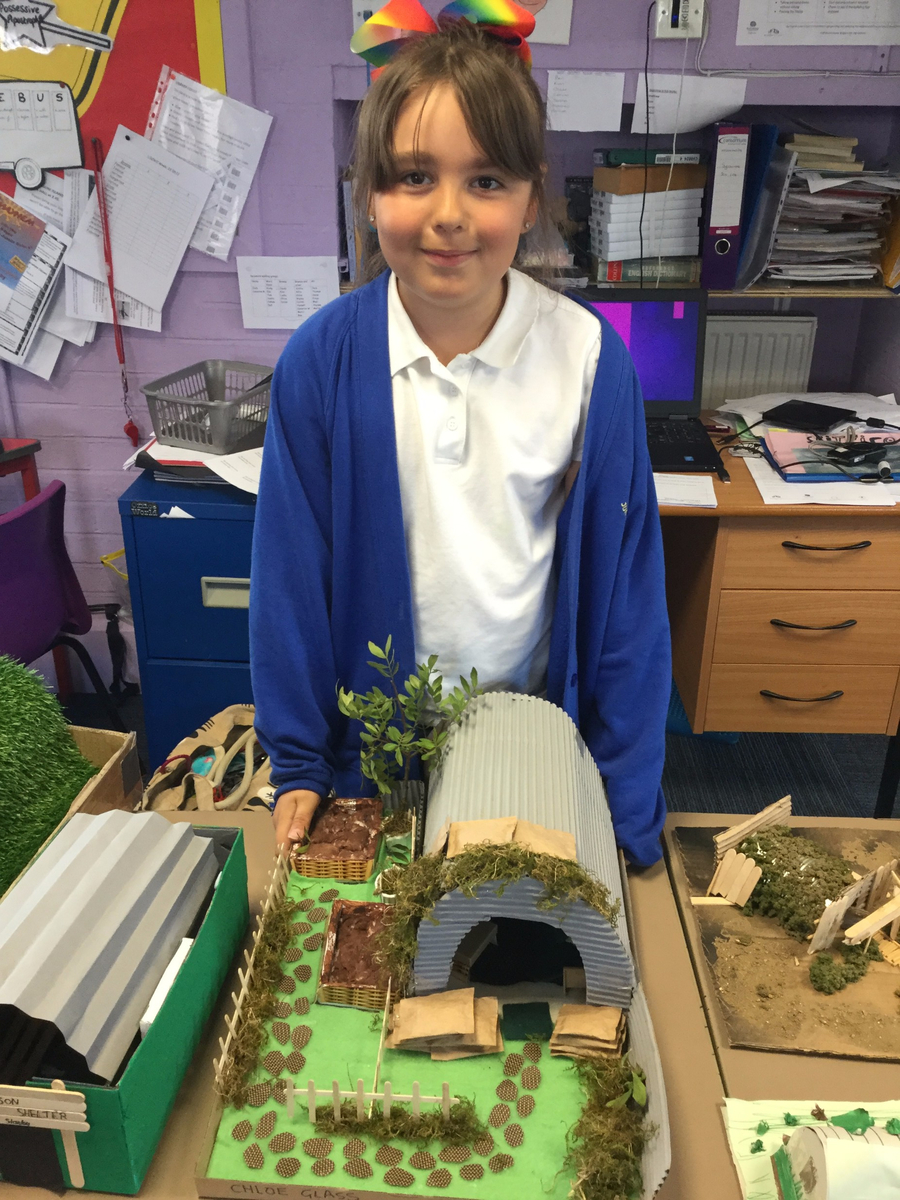 We wrote diary entries from the point of view of a soldier or an evacuee.
This is an extract from Freya's diary entry:
Dear Mum and Dad,
Feeling scared, I'm led down under some blanket worried that I might perish. I'm here on gritty gravelwriting this letter panicking about the fight ahead of me. Constantly dipping my pen in the ink, before it dries up, the wind is picking up really strongly. So I am having to grip onto this paper tight before it blows away. Pulling my gritty blanket over my head, I can hear really loud gunshots from over the hill. It makes me more scared for the fight tomorrow....
Our School Values
As part of our School Values week, Sycamore class explored the value of courage. We discovered what courage is; we explored when we have used courage to help us succeed and discussed what we have to do to gain more courage in different situations.
Courage
Climbing the highest mountain,
Opportunity to push your own limits,
Understanding right and wrong,
Running, trying to push your speed,
Admitting when you are wrong,
Getting up and trying even harder; keep persevering,
Excited even when something's are hard.
Courage
Climbing the highest tower,
Opportunities to take a risk,
Uniting together to stand up to bullies,
Rock climbing on the bumpiest rocks,
Admitting others are right and you are wrong,
Getting up and helping others,
Expressing your feelings despite the situation you are in.
Sycamore Class have had a fantastic Term 1.
We have been learning about Alfred the Great and the Anglo Saxons.
We had great fun making our own Anglo Saxon houses.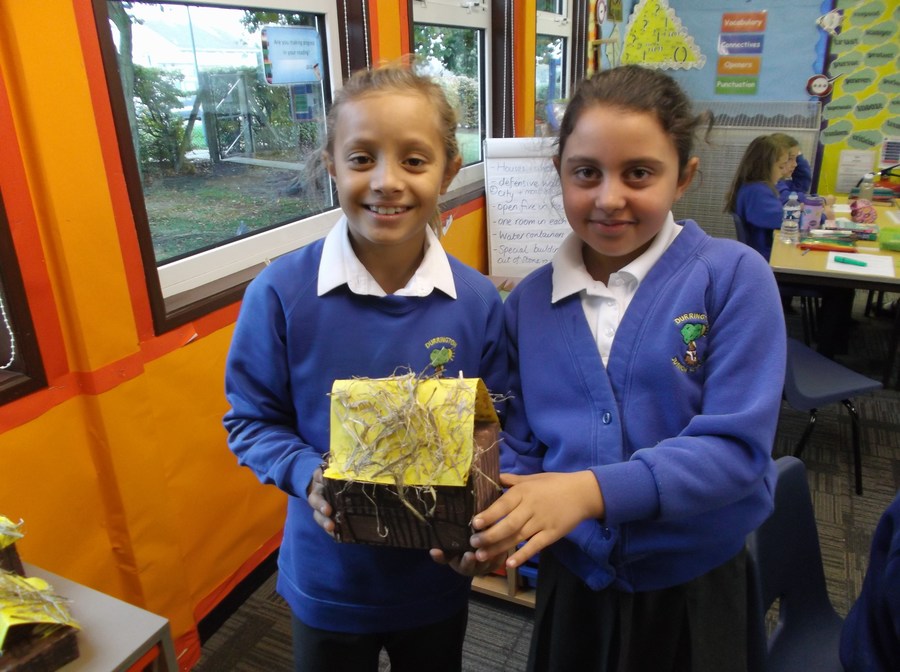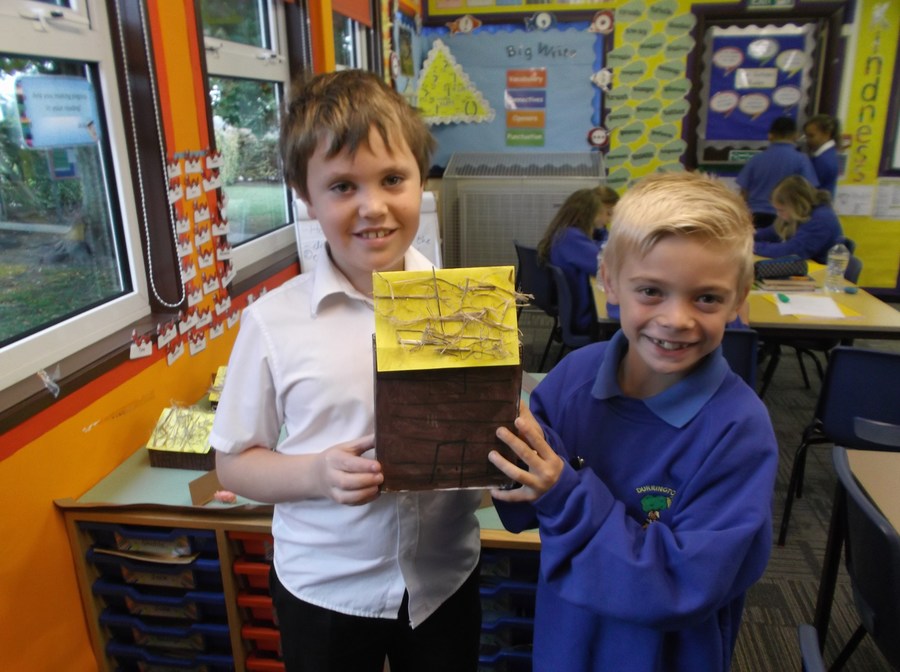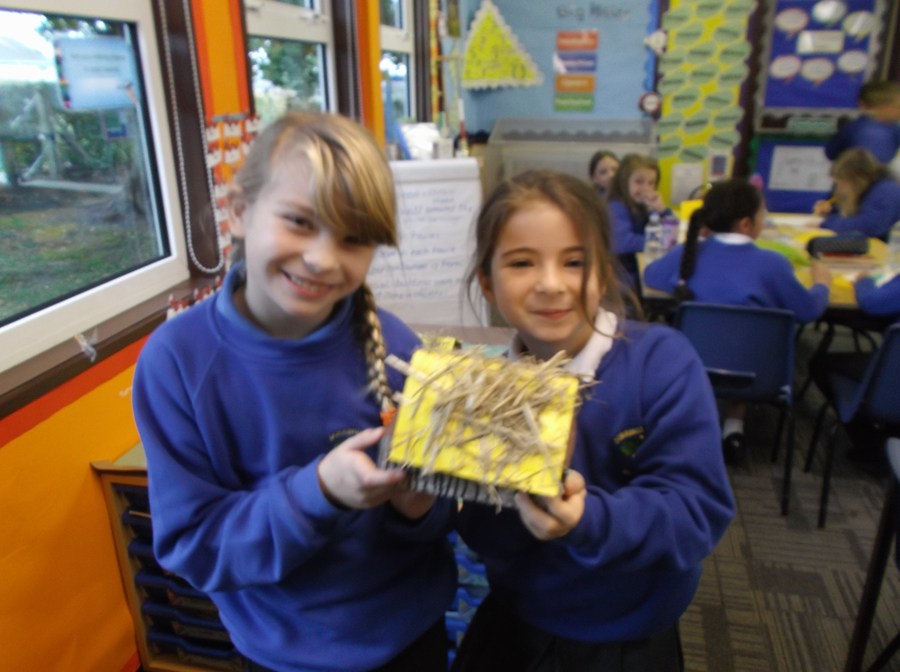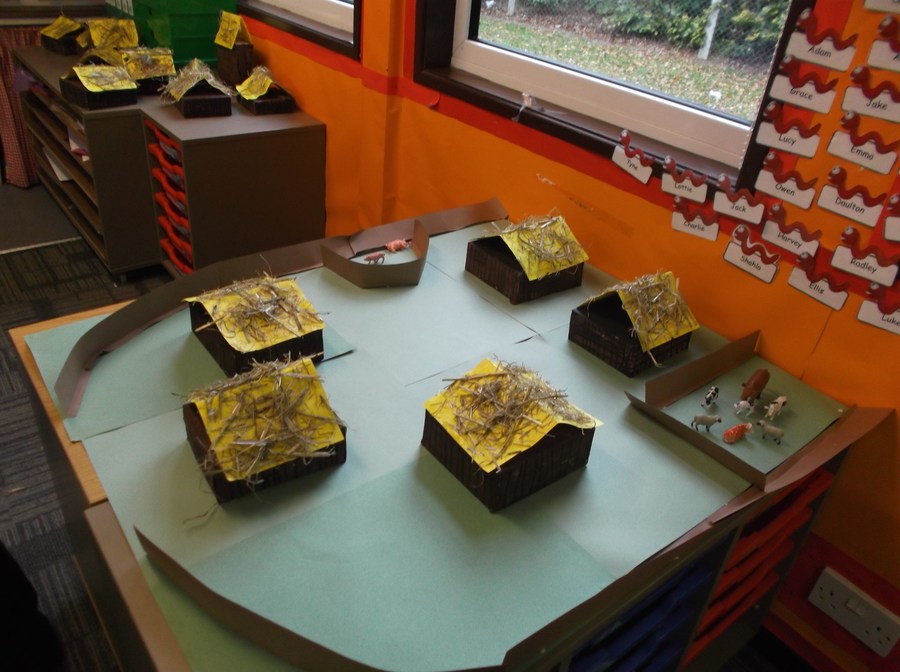 Term 2
Our topic this term is Living things and their environments. We looked both at local habitats and habitats further afield. We explored adaptation of living things to their environments, in particular how animals and plants living in the Himalaya's are adapted to live in such harsh conditions.
We then went onto looking at living things that are endangered. Check out our posters which share our concerns about the many animals which are endangered on our planet...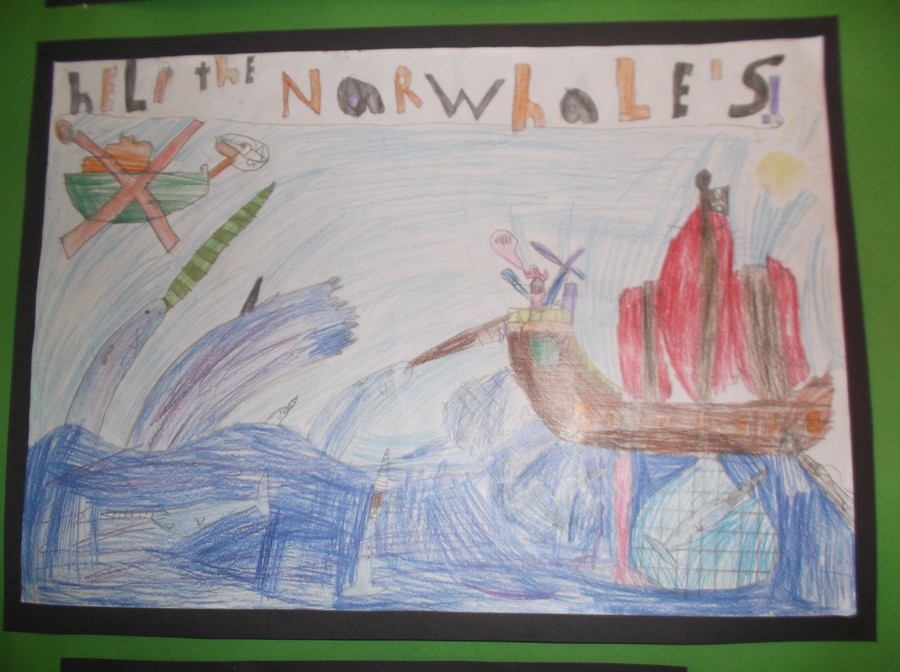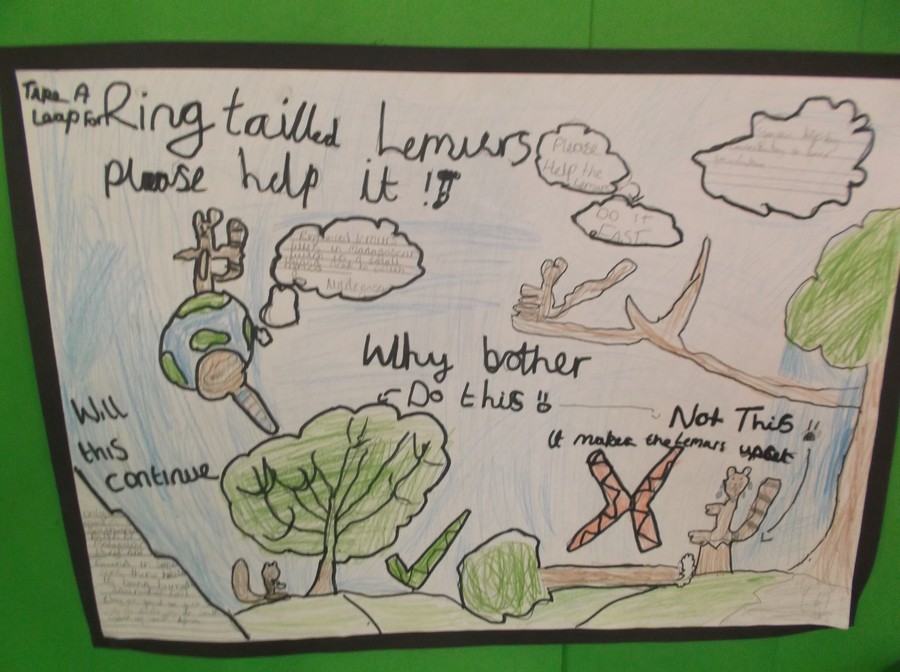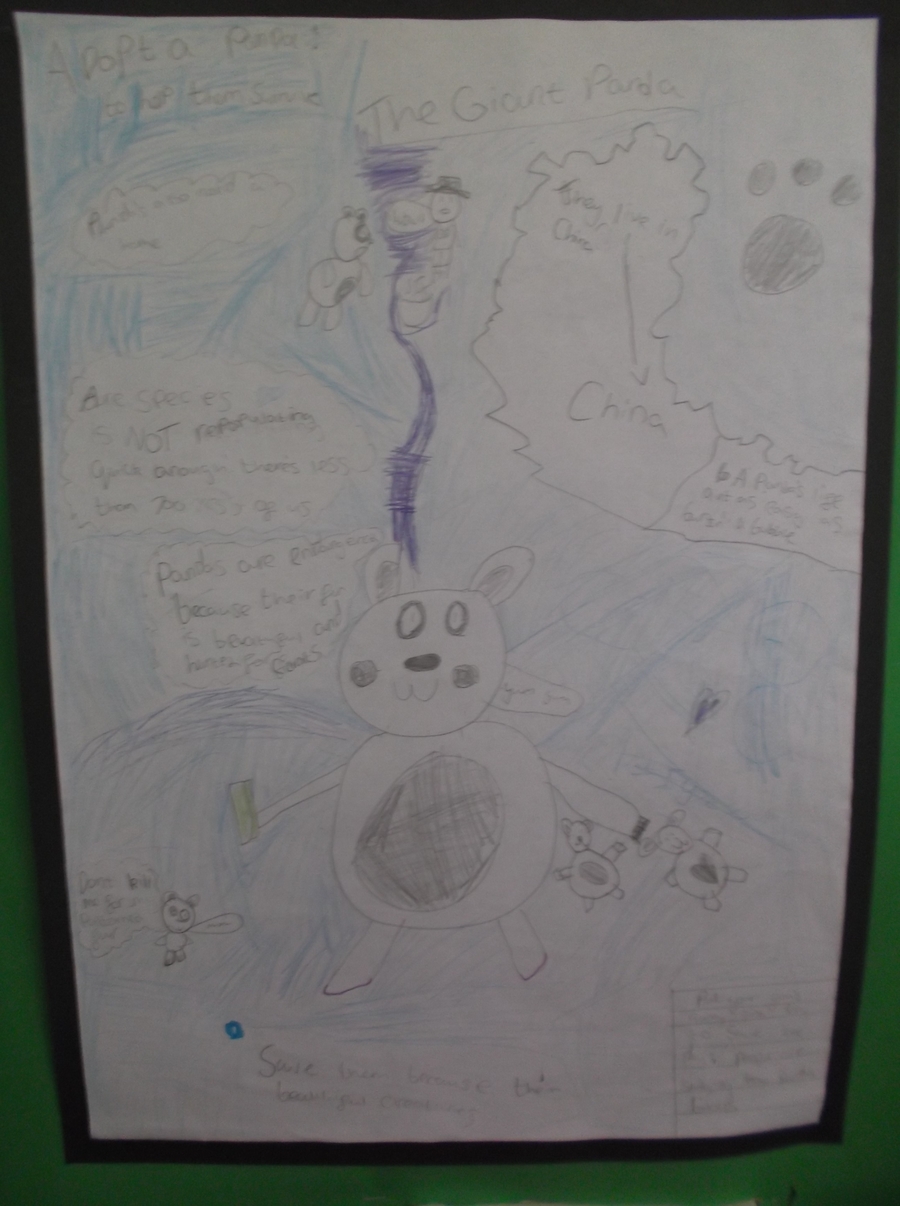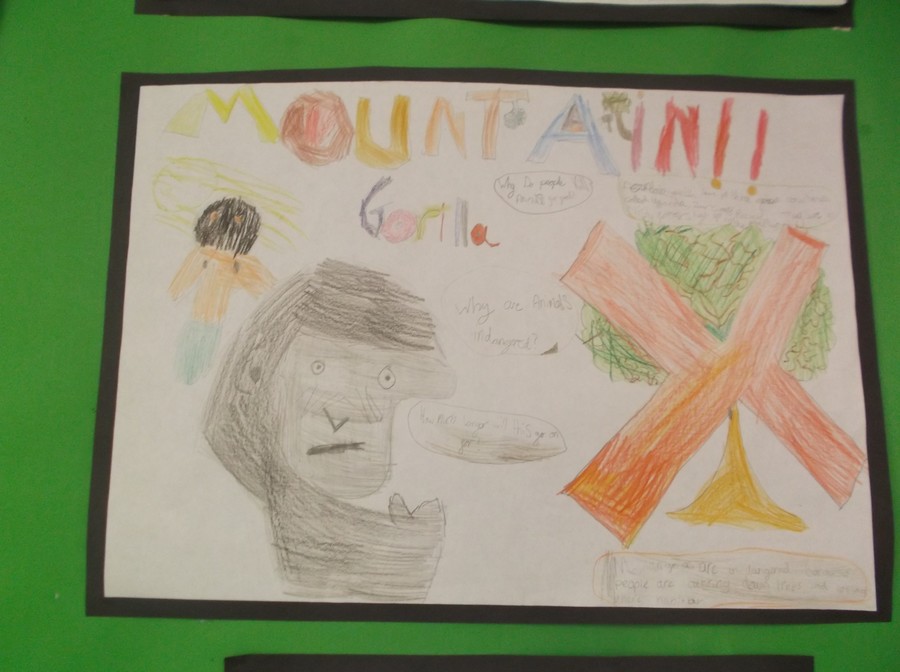 Term 3
Our topic this term is Rivers and Earthquakes. After using atlases to explore the continents and countries of our magnificent world, we focused our research on the continent of Africa. We found out a lot about the River Nile and wrote some very informative reports.
We had fun exploring African dance in PE too. We created a whole class dance, which included small group stills showing aspects of African life...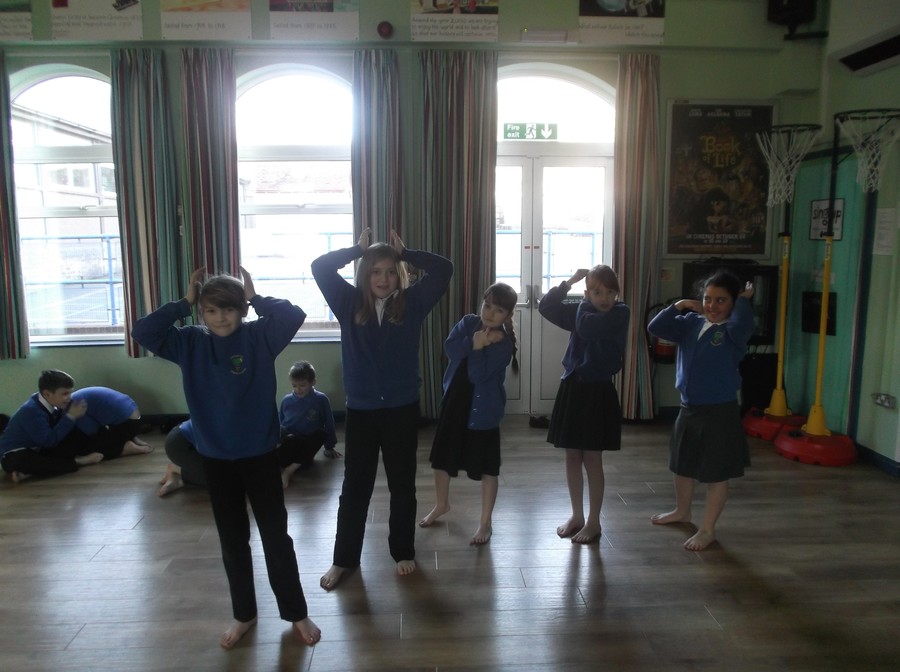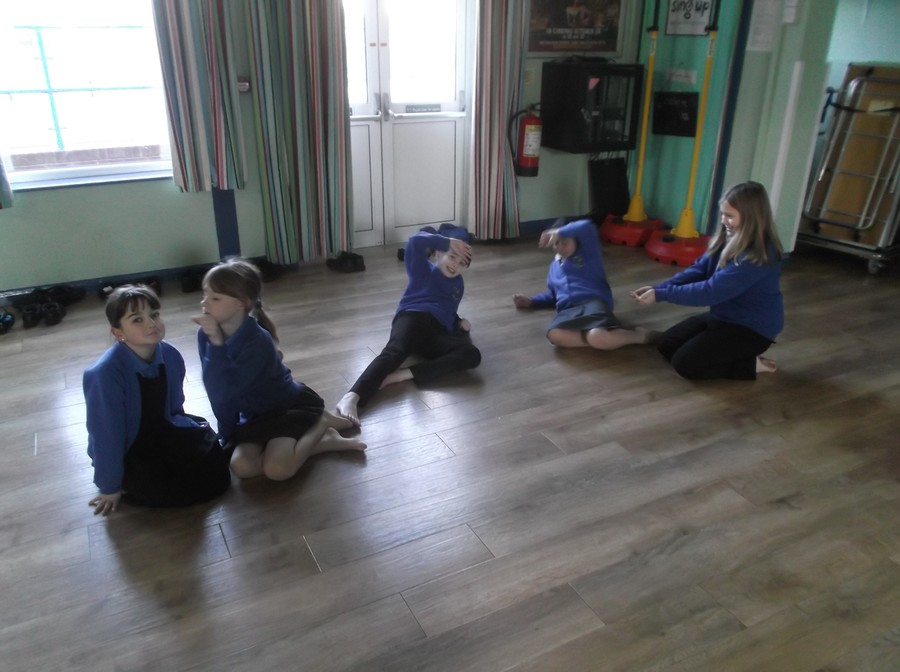 We have also cooked up a storm this term! For DT we tasted, evaluated and cooked different varieties of soup. Small groups chose the flavour of soup they wanted to make and with the help of Mrs Clark, delicious soups were made. We all loved cooking and we even made pancakes as a treat on Shrove Tuesday!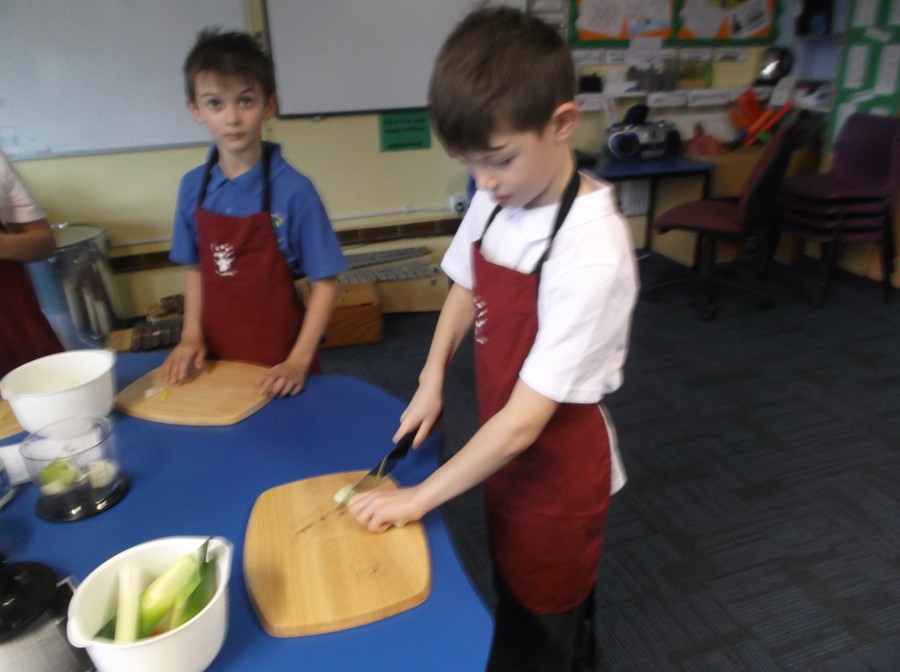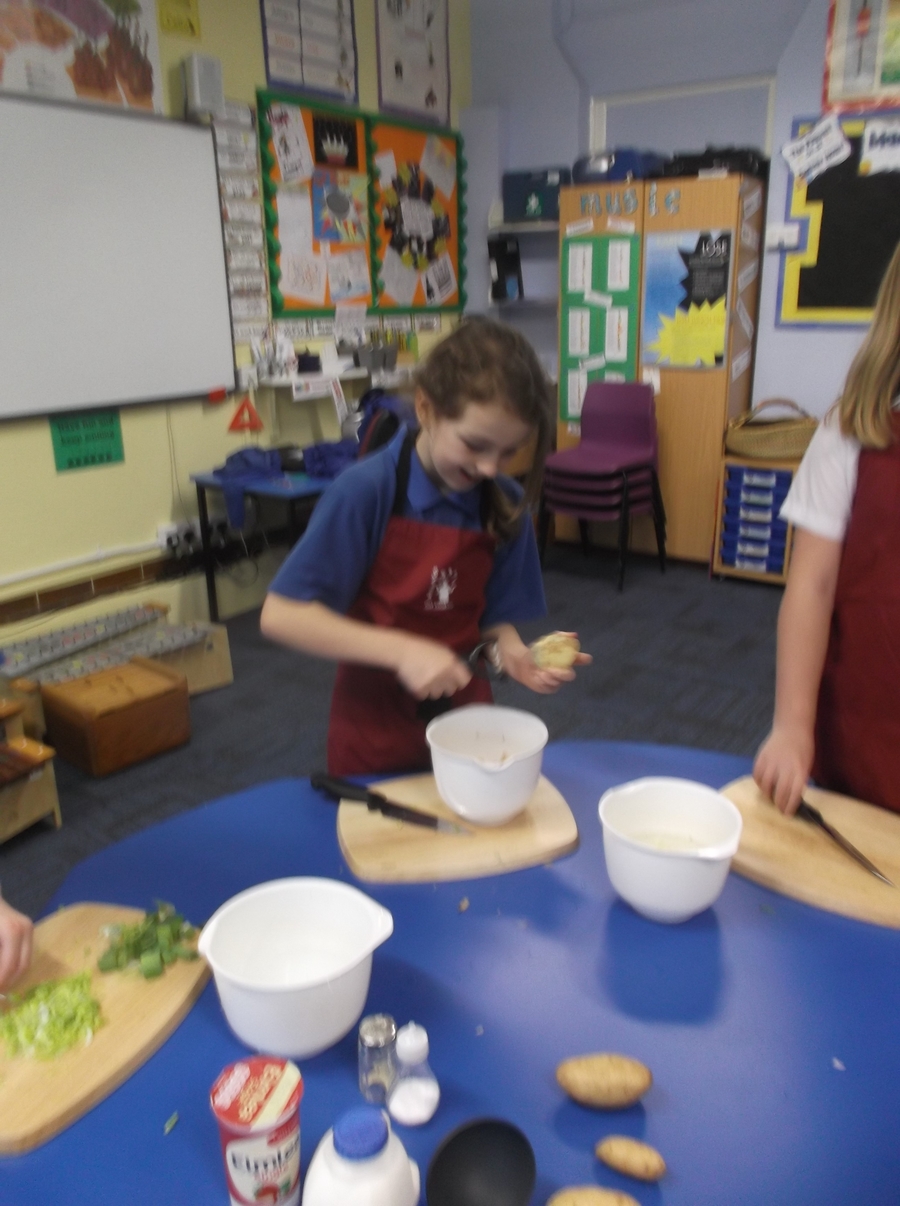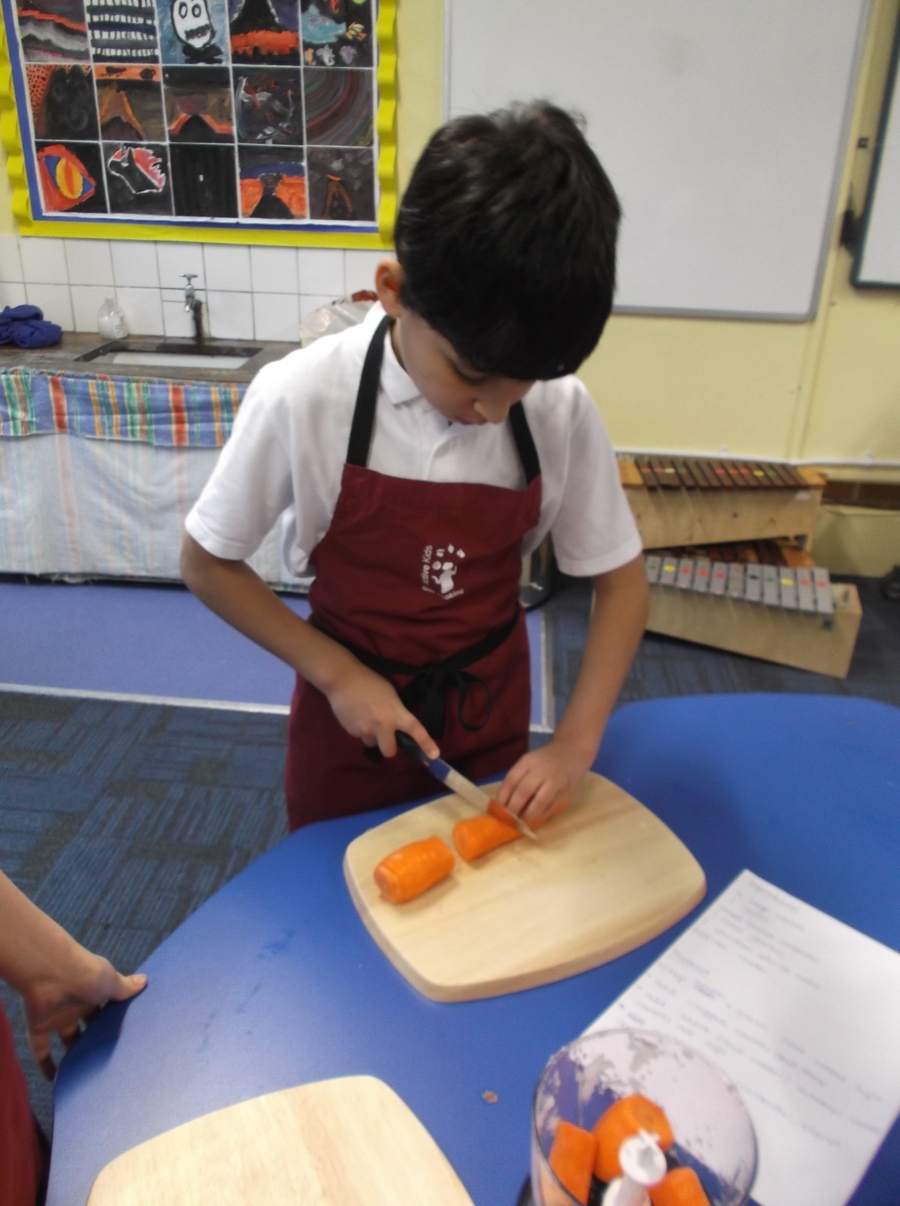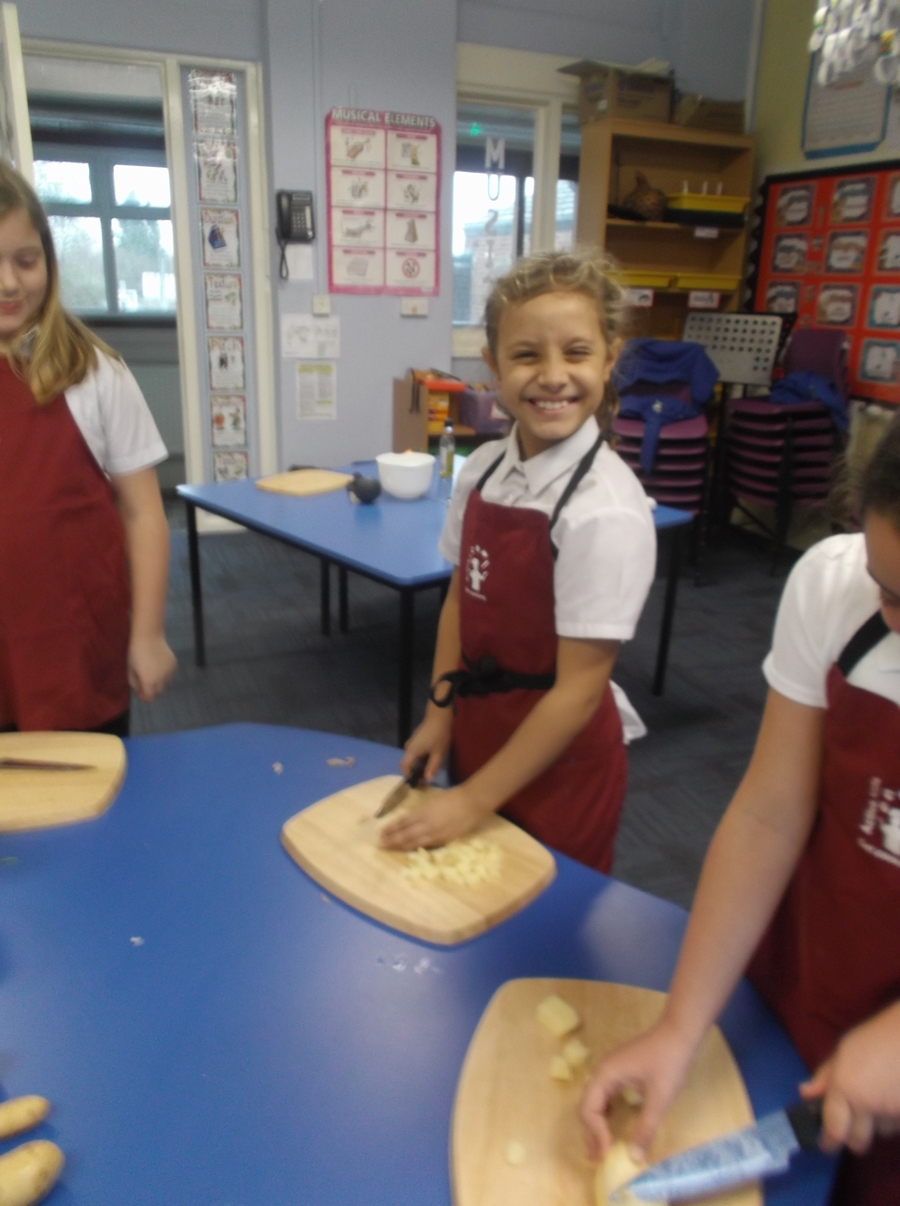 Term 4
Our topic this term is 'sound.'
Watch this space for more updates throughout the term....
Everyone made string telephones and investigated how we could improve the quality of the sound.
In term 5 we had great fun exploring the Ancient Egyptians. We found out about how the civilisation started, why the Egyptians built Pyramids and we made our own Canopic jars.